Val DiGiorgio is strengthened and empowered by his sense of community. He is passionate about community building and the creation of opportunities for those in need.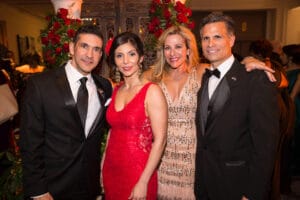 In 2018, Valentino DiGiorgio was recognized by the Sons of Italy Organization with the Distinguished Italian-American Award.  A proud Italian-American who is enriched by his culture, DiGiorgio is incredibly thankful for this honor of recognition.  He attributes this accolade to not only his accomplishments as an entrepreneur, but also to his unwavering commitment to his community.
Throughout his career, Val DiGiorgio has set a great deal of his energy on advocating for individuals and families in need.  Always willing to lend a helping hand, DiGiorgio's passion for community work and philanthropy dates back to his childhood.  In particular, he is enthusiastic about empowering individuals and families in urban communities across the United States.  As a personal witness of the struggles and challenges faced by urban America, DiGiorgio understands how important it is to advance an agenda of opportunity for all.  Solidified in his leadership skills, DiGiorgio enjoys taking hold of every opportunity to be a voice for those in need.
Board Memberships & Affiliations
Valentino DiGiorgio thrives in leadership roles.  Always hands on in his approach to community work, he enjoys the opportunity to represent the organizations that he works with.  Currently, DiGiorgio represents the following organizations:
Independence Blue Cross (Advisory Board Member)
Saints John Neumman & Maria Goretti Catholic High School (Board of Directors)
Scholarship Program
Recently, Val DiGiorgio has been drafting up a plan for a potential scholarship program.  Passionate about empowering others through the creation of opportunities, this decision has been a natural fit for the community-conscious philanthropist.  Although nothing is set in stone quite yet, DiGiorgio envisions a scholarship program that will benefit high school students and United States military members.  A proud supporter of all those who serve in the armed forces, he is passionate about giving back to the veteran community.  DiGiorgio looks forward to sharing updates on this program as the details become more solidified.